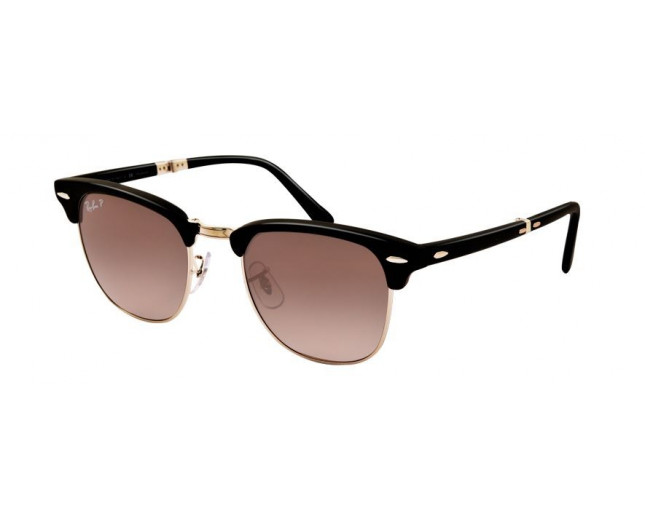 Ray-Ban Clubmaster Pliantes Matte Black Polar Grey Gradient
Ray-Ban RB2176 Clubmaster Folding sunglasses are retro and timeless, and as fashionable today as they were when they were the sunglasses of choice of counter-culture intellectuals and civil rights leaders. This foldable version is a masterpiece with extreme eye for detail that can be stored easily in your pockets, yet obviously you want to showcase this precious piece!
To learn more about us
A timeless design with 21st century features - adding functionality and lightness, elegance and ability to transform themselves, to the most "committed" of eyewear.
The Ray-Ban RB2176 Clubmaster Folding sunglass brings an element of fun and space conservation to the legendary, iconic piece. Staying true to its retro and timeless look, the Ray-Ban RB2176 Clubmaster Folding takes its iconic roots into a more functional sunglass. The Ray-Ban RB2176 Clubmaster Folding retains the contours of the original Ray-Ban Clubmaster, but now has been modified with the capability to fold into a compact footprint. For the true Ray-Ban lover, this innovative design is offered in premium acetates with matte finishes. Constructed with a six hinge system and invisible bridge folding system, the Ray-Ban RB2176 Clubmaster Folding is for the ultimate trendsetter. The Ray-Ban RB2176 Clubmaster Folding sunglasses are practical, portable, and always in style. They feature crystal lenses, offer 100% U.V. protection and also come in a polarized option.
Gender :

Men -

Résultat du travail et de la réflexion des créateurs, cette lunette s'adaptera parfaitement aux visages masculins.

Material :

Metal -

Fine and discreet, the frame can be encircled, half-encircled or drilled for a sensation of lightness. Stainless steel glasses are famous for resisting corrosion. The durability offered by steel eyeglasses is profound

Color :

Black

Bridge :

21

Temple :

135

Rx :

Rx compatible -

The frame is designed so to accommodate optical lenses.

Opt Modèles :

Ray-Ban Clubmaster Pliantes

Glasses warranty :

24 months Ray-Ban -

Ray-Ban sunglasses and optics are guaranteed two years against manufacturing defects noticed by the manufacturer and any breakage within the framework of a normal use. The guarantee does not cover the defects due to a misuse or to a lack of care (shocks, scores on glasses, loss, accident).

Glasses case :

Ray-Ban Case
Opt Verres Minéral/Polycarbonate :

Verres Minéraux

Color Lenses :

Grey

Protection index :

3 -

Very intense brightness. Protection with intense light conditions. Absorbs from 82 to 92% light intensity.

Lens Features :

Degraded Polarized

Ray-Ban Lens :

M8 Polarized grey gradient -

Eliminate distracting polarized, aka reflected, light from reaching your eyes. That means a drastic reduction in the brightness of shiny surfaces, like chrome, and large bodies of water. So whether you're staring at a freshly waxed muscle car on the road or a highly oiled body builder at the beach, glare will be a thing of the past.
Shape :

Clubmaster

Options :

Folding Frame
Ray-Ban
Find here the Ray-Ban history. Timeless, authentic and imaginative, the Ray-Ban collection remains true to its classic heritage, while continuously evolving to meet today's fashion demands. Ray-Ban sunwear provides timeless style with models like the classic Wayfarer and Aviator while also offering exciting new styling innovations in keeping with today's contemporary urban fashion. Worldwide, Ray-Ban is recognized as the sunglass brand everybody loves. Ray-Ban is a high-end manufacturer of sunglasses, founded in 1937 by Bausch & Lomb, on commission of the United States Air Force. In 1999, Bausch & Lomb sold the brand to the Italian Luxottica Group. Ray-Ban was responsible for creating two of the most imitated sunglass models on the planet: the Ray-Ban Aviator and the Ray-Ban Wayfarer.
Products in the same category
Discover our selection